Beginnin' Sessions
date_range 08.12 (Mon) 15:00 to 22:00
grade House, Future House, Deep House, ProgressiveHouse
label

Still Young

Joe Stone

Bali Bandits

SAKO
JAPAN / KANTO
B2F, Shintaiso Bldg No.4, 2-10-12 Dogenzaka, Shibuya-ku, Tokyo
03-6427-8107
Beginnin' Sessions 初開催!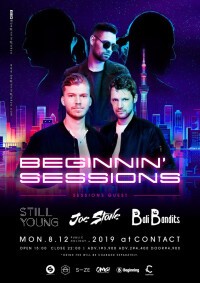 『Beginnin' Sessions 初開催!』

これまで数々の旬なアーティストをデイイベントで呼んできたBeginningが今年の夏Beginnin' Sessionsを渋谷Contactにて初開催する。この記念すべき1日を飾るスペシャルゲストには、Spinnin' Recordsからヒット曲を重ね代表曲「The Party」は当時のBeatport総合チャートで1位を獲得し絶えずヒット曲を量産しているオランダ出身のJoe Stone、HEXAGONからリリースされた「Mr. Meow」の大ヒットなどSpinnin' RecordsやFuture House Musicからもリリースを重ねるオランダ出身のBali Bandits、
Swedish House Mafiaの一人として知られるSteve Angelloの右腕としても知られ昨年大阪で世界初公演が大盛況を収め今回満を持して東京初登場するStill Young。初来日2組に加え東京初登場のこのフェス級豪華ラインナップは見逃せない。デイイベントの時間帯なので未成年も入場可能。

「First edition of Beginnin' Sessions」

The day party Beginning has been featuring some of upcoming artists. They embark on a new journey at Contact with Beginnin' Sessions. They have lined up some special guests to commemorate this day. Hailing from Netherlands, Joe Stone who has been pumping out hit releases from Spinnin' Records, including「The Party」which climbed up to #1 on Beatport chart, will be headlining with Bali Bandits, known for their massive hit「Mr. Meow」from HEXAGON, as well as releases from Spinnin' Records and Future House Music will be making their Japan debut.
Completing the lineup, a figure known for being the right hand man of Steve Angello from Swedish House Mafia, Still Young will be making his first appearance in Tokyo, following his successful Japan debut in Osaka last year. A not to be missed day event featuring world's top class artists. All ages are welcome.