TCPT presents ELECTRIC THUNDER
With an exploding fanbase not only in BASS MUSIC,UK HARDCORE but across genres, "GAMMER" makes his first-ever appearance at ageHa!
03.16 (Sat) 23:00 to 05:30
HARD CORE / BASS / EDM

GAMMER

YOSHIMASA

DANTZ

TAKAHASHI YU

23TO

NIKO

AKI-HIRO

Herald

TAKANORI

LIGHTCELL

anemonerecords

MK (JPN)

G-NAILS

HIKARU

2iline

Herbalistek

DJ ONNY

Solunamanalia

MASA-Y

Masayoshi Iimori (TREKKIE TRAX)

DJ Shimamura

M-Project

Morphonics a.k.a. 紙袋

Getty

Relect

SAY8

Amaretto

auny

MC STONE

ふもっふ/Fumoffu

DJ AEMI

BEPPU

O-FUNE

DJ ITZ

PIROKICHI
ageHa place
JAPAN / KANTO
東京都江東区新木場2-2-10
03-5534-2525
BASS MUSIC, UK HARDCOREファンのみならずジャンルを超えてファン急増中の「GAMMER」がageHaに初登場!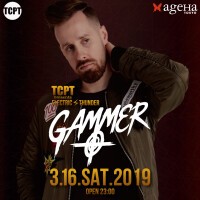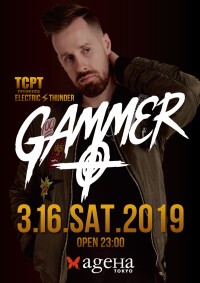 "TCPT presents ELECTRIC THUNDER" welcomes "GAMMER" with the first party of 2019.

With popularity kicked off by his 2016 remixes of KAYZO's "Frequency" and Porter Robinson's "Language," he went on in 2017 to release an array of hits such as major hit "The Drop" and "Party Don't Stop," achieving a cross-genre explosion in popularity. He has also performed at EDC Las Vegas and many other major global festivals. In addition, his song "Stay Young," with Darren Styles and Dougal, has seen major trending on Tik Tok since the end of last year and remains fresh in memory as a social phenomenon.

With incredible support from all sides, GAMMER will answer the hopes of his fans and take this opportunity to enter the ageHa arena. Party Don't Stop!!