THE BIG PARTY 2018 AUTUMN FES.
DJ KAORIのレジテンド・パーティー『THE BIG PARTY』 。今回はAUTUMN FESと題しSNS世代にも人気のアーティスト 「SALU・JP THE WAVY・RIRI・當山みれい・MABU」にフォーカス! 超豪華、大迫力の生パフォーマンスを見逃すな。
date_range 11.17 (Sat) 23:00
grade LIVE / HIP HOP / EDM / TOP40
label

DJ KAORI

SALU

JP THE WAVY

RIRI

當山みれい

MABU

DJ KEKKE

CYBERJAPAN DANCERS

東京夜蝶倶楽部 -AGEHA PERFORMANCE CREW-
JAPAN / KANTO
2-2-10 Shin-kiba, Koto-ku, Tokyo
03-5534-2525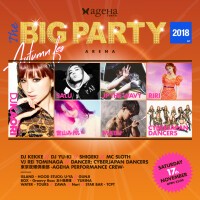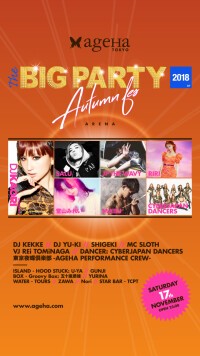 アガりたいならこのパーティーで決定!
MIX CDセールス世界一DJ KAORI唯一のレジデントパーティーである『THE BIG PARTY』。
ARENAにはSWAYのバックDJやHIP HOP DJとしても全国で活躍中のDJ KEKKE、荒野行動RAPでもお馴染みのDJ YU-KI & SLOTH、MABUのBACK DJ SHIGEKIら豪華なメンバーが集結。
更に今回はAUTUMN FESと題してSPECIAL GUEST LIVEにはSNS世代でも大人気のアーティスト豪華5組が登場する。

DJ KAORI's registered party "THE BIG PARTY"
This time it is popular with SNS generation entitled AUTUMN FES
Focus on "SALU · JP THE WAVY · RIRI・Mie Toyama · MABU"!
Do not miss live performance of super luxury and great power.

ARENA has
DJ KEKKE who is active in the whole country as SWAY's back DJ and HIP HOP DJ
DJ YU-KI & SLOTH familiar with RAP, MABU's BACK DJ SHIGEKI and other luxurious members gathered.

== INTERNATIONAL COUPON ==
We offer a special discount service to the guest from overseas who are having a hard time to purchase our advance tickets. In order to receive this discount, please bring one of the following I.D.
※Passport / Driver's license / Resident Card except for Japanese
※Copies/Smart Phone Photos are not acceptable.
※You must be 20 years or older to enter and a valid photo ID containing your birthdate is required at the door.