BUY NOW
EDGE HOUSE feat. WALKER&ROYCE
date_range 07.27 (Sat) ~ 07.28 (Sun) / 22:00 to 05:00
grade Tech House / House / Techno
label

DJ DARUMA(PKCZ®) & JOMMY

CARTOON(CATN)

Kazuma Takahashi

KANOYA PROJECT

MA-SA
JAPAN / KANTO
B1F, 2-10-7 Dogenzaka, Shibuya-ku, Tokyo
03-5728-2824
Walker & Royce makes their Tokyo debut on July 27th. Their collab with Chris Lake from Black Book Records was a big hit!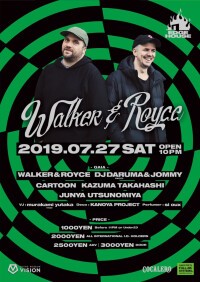 【GAIA】 HOUSE / TECH HOUSE
WALKER & ROYCE
DJ DARUMA(PKCZ®) & JOMMY
CARTOON
KAZUMA TAKAHASHI
VJ:murakami yutaka [kezjo]
Deco : KANOYA PROJECT
Perfumer:si oux

【DEEP】
T.B.A

【WHITE】
T.B.A

【D-LOUNGE】
MA-SA
TAKAHASHI YU
yucci
SUETSUGU
Rika
YUNOSUKE
DJ KZP

Logo Design GUCCIMAZE / Graphic Designer
Supported by FULL-BK SYSTEMS / COCALERO


OPEN 22:00
1000YEN - Before 23:00
1000YEN - Under23
2000YEN - ALL INTERNATIONAL I.D. HOLDERS
2500YEN - ADV TICKET
2500YEN - FB DISCOUNT
3000YEN – DOOR

《 Facebook discount》
Join the event for ¥500 off!
Click《Join》and you are on discount list.
※You must show your mobile phone screen of joined event page at the entrance.

Must be 20 or over with Photo ID to enter.
share
Pop-out