BUY NOW
UNIT15th Anniversary MISO
date_range 08.09 (Fri) DOOR: 18:30 START: 19:30 to 21:30
grade R&B / Hip Hop
label

MISO

Black Boboi
JAPAN / KANTO
B2F Za HOUSE Bld., 1-34-17, Ebisu-Nishi, Shibuya-ku, Tokyo
03-5459-8630
UNIT 15th anniversary celebration with Korean Producer Singer-songwriter MISO!!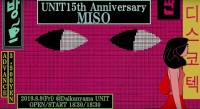 Alternative singer-song writer MISO from you.will.knovv
MISO is only female producer/singer-song writer in YWK.
MISO is a very first Korean artist who was picked by 'Red Bull Academy' – in Paris in 2015 (https://www.redbull.com/kr-ko/red-bull-music-academy-miso).
She has been touring with DEAN in Europe and the US.
She released digital single [Take Me] (2017) and it was sensational music not only in Korea but also US indie/hipster music scene. The MV of 'Take Me' hits 18M views on Youtube which is impressive number for new artist who released just one single only.
Support from Tokyo based band Black Boboi whose lately put out brand new ep "Red Mind /4hours"
share
Pop-out